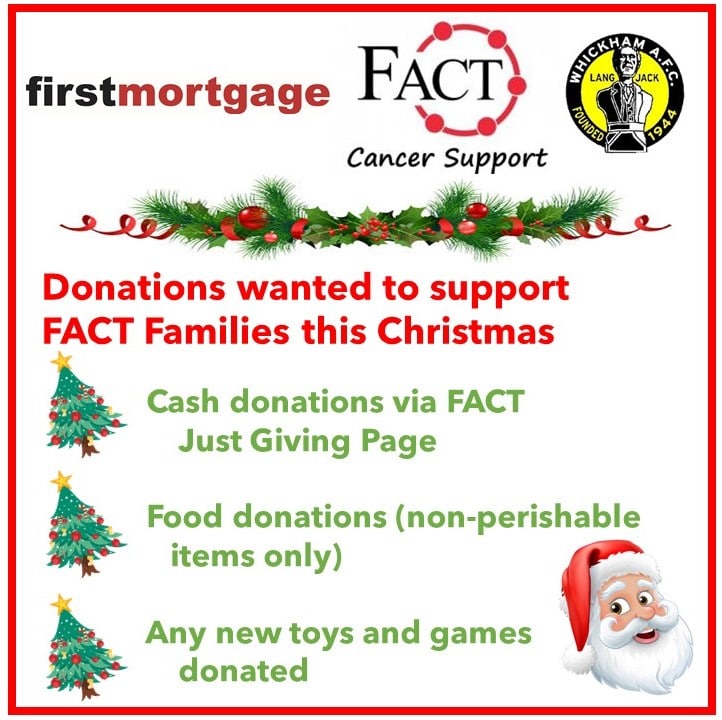 Together with Whickham FC we are working closely with our friends at FACT Cancer Support to help provide Christmas food hampers, dinner kits and any unwanted (new) gifts to those badly affected by cancer this Christmas.
FACT Families are people affected financially by cancer, those facing Christmas alone, or for example, families who are facing their first Christmas without a loved one, or know this Christmas is their last.
Fact look after adults and children alike and due to COVID-19 FACT have had to change how to look after people this Christmas.
To make a donation to the FACT Fundraising appeal please use the link below:
£10 will provide a small food hamper or gift hamper
£20 will provide a Christmas Dinner Hamper
£75 will feed a family on Christmas Day
Non-perishable food items and unwanted new gift donations welcome.
All our offices (Dunston, Newcastle, Sunderland & Chester-le-Street) are available for people to drop in and donate non-perishable food items and unwanted new gifts. Please obey our COVID-19 procedures if dropping supplies into our branch.
We appreciate it has been a challenging year for everyone however if you can please dig deep and donate as much as you can for this amazing cause this Christmas.