How to Apply for a Mortgage
We're here to take you through every step of applying for a mortgage, and will do all the paperwork and administration on your behalf. All you need to do is bring in your supporting documents!
Here's a step-by-step guide to what that process looks like, what you need to prepare, and why (and what happens in a mortgage application):
Meeting 1 – get a decision in principle
At you first meeting your advisor will ask you about your personal circumstances and expectations: what sort of property you'd like to buy and how much you can afford to spend on one. They'll take you through a budget planner to look at what you earn and what you spend, what deposit you have and your credit history. Using all of this information, they'll find the best deal based on your individual needs. You'll leave with a decision in principle – this is basically an assessment of what a lender is prepared to give you – so that you and any sellers know exactly how much you can spend on a property.
You look for a property, we look for a mortgage
After your initial meeting, you and your advisor both start searching – you for your home, they for the deal that's going to help you buy it. Your advisor will search the market for the most suitable mortgage for your needs and send you recommendations.
Second meeting – get a mortgage
Once you have found your property and had an offer accepted, it's time to apply for your mortgage. You can contact your mortgage advisor at any point to ask for advice and help – all for free. You'll need to bring several documents (listed below) with you to your second meeting, and your advisor will provide you with a handy checklist to make sure you bring everything we need. At the meeting itself, your advisor will take you through the application process step-by-step. As they have researched the lender and prepared for the meeting beforehand, it should be a straightforward process, and barring any complications, you'll leave with a mortgage in place.
Preparing your documents – what you need to bring with you
After your first meeting with a First Mortgage advisor, you'll be sent a letter detailing everything that you discussed. This is to make sure everything is clear, and you understand the ins and outs of the mortgage process. You'll also be sent a list of documents to take with you to your second appointment when the advisor will take you through the mortgage application process itself. These will include:
– proof of your income from the last three months (payslips or business accounts, bank statements and income tax accounts)
– proof of identity, such as a passport or driving licence
– proof of address, such as a recent bill
– last three months bank statements
What happens next?
A First Mortgage relationship doesn't end once you have moved into your home. We'll keep an eye on when your mortgage deal expires and be in touch with you prior to the expiry to arrange your next mortgage deal. If you're on a fixed rate deal, your lender will usually return you to their standard variable rate at the end of the term, meaning you'll pay more each month. By contacting you before this happens, we can ensure you move on to a more suitable package matching your needs and financial circumstances.
We can also offer advice on early repayments, payment breaks and any charges on your mortgage and what they mean.
When you are ready to move on from your first home, we will be on hand to help, give advice, and find you the best deal possible.
Mortgage Tools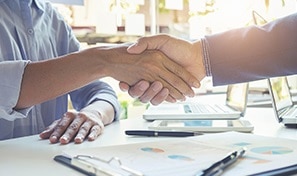 Top Rated Mortgage Advice
When you are ready to take the next step on your home buying journey, we have friendly advisors ready to take you through the whole process, step by step. Find your nearest branch here, or call us on 0345 603 1525.
First Mortgage is the UK's most trusted mortgage advisor, with a 5 star TrustPilot rating and over 4000 reviews. Find out why our customers rave about our service!