Mortgage in Principle
What is a Decision in Principle?
Before you can put in an offer on a property, you need a mortgage lender to confirm that it is prepared to lend you the money. This is called a mortgage or decision 'in principle'.
To get assurance on what you can realistically borrow, you need to complete a mini application with your mortgage advisor to submit to a lender. The lender will take the following factors into account:
The monthly repayments you can afford based on your income, expenses and other factors.
Your credit history. Most lenders will perform a "soft" credit check (link to credit referencing) from one or more credit referencing agencies.
Other lender specific criteria, such as age of borrower, property type, property location.
A Decision in Principle (DIP) is also sometimes referred to as an Agreement in Principle (AIP), Mortgage in Principle, Mortgage Promise or Lending Certificate.
How to get a Decision in Principle
The first step is to meet with your mortgage advisor. They will ask you about your circumstances, including your incomes and expenses, your credit history and the deposit you have available.
The advantage of using an impartial mortgage advisor is that they can use the information provided by you to them search through thousands of mortgages and find the best deals available for your circumstances. There are over 10,000 different mortgage products available, so it's great to have some help in narrowing down the field. If you were to speak to a bank or building society, they would only be able to offer you products from their own product range, usually only 5 to 10 different mortgages.
The options will be narrowed further once you decide on the type of mortgage (link to mortgage types) you would like to take out.
Advisor insight – different lenders use very different criteria
We use our experience to help our clients choose the mortgage product that will give them the greatest chance of being accepted. This takes into account the varying criteria used by different lenders. For example: some will not look at childcare costs when calculating affordability, and some will factor in overtime and bonuses more generously than others – all which means your DIP application has a high chance of success. Another key area is the speed of processing of the lender, some can take 2-3 weeks to make a mortgage offer, while others will offer in 24-48 hours or less.
What if my DIP gets declined?
First of all, don't worry, there are many reasons why a DIP may be declined, and it does not mean you can't get a mortgage from another lender. Some of the most common reasons for a DIP to be declined are:
You are not on the electoral register. The lender will find it hard to verify your identity if you are not on the electoral roll.
Issues with your credit record. Your credit history may not meet the lenders' criteria. It may just be a minor blemish or something you are not aware of.
You have taken out a payday loan. Some lenders will not consider you if you have taken out a payday loan in the last few years.
Your debt is too high. The lender may feel that debt repayments are too high for them to lend to you.
You may not fit the lenders underwriting criteria. It may be the property type, the area, your age or your job.
A DIP is not a guaranteed mortgage
It is important to realise that having a DIP is not a guarantee that the lender will offer you a mortgage for the same amount.
The most common reasons for this are:
Your circumstances have changed between DIP and full application.
There has been a change in your credit rating.
The property type has changed.
Your available deposit has changed.
How long does a DIP last for?
Each lender has their own rules for the mortgages in principle, but most DIPs are valid for a period of 60 to 90 days.
It is usually possible to request that the agreement is renewed, but this may involve a new soft credit check being carried out.
Advisor insight – check how long a mortgage can be reserved for
Some house purchases take longer than others and we need to bear this in mind when we recommend a lender to you. If you're buying a new build, it may be nothing more than a plot of land when you make your initial enquiries. We'll make sure that any decisions in principle last until you are ready to take out your mortgage – or that we can renew an offer nearer the time.
Mortgage Tools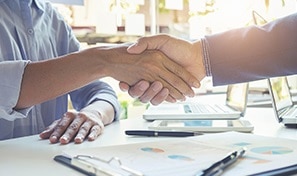 Top Rated Mortgage Advice
When you are ready to take the next step on your home buying journey, we have friendly advisors ready to take you through the whole process, step by step. Find your nearest branch here, or call us on 0345 603 1525.
First Mortgage is the UK's most trusted mortgage advisor, with a 5 star TrustPilot rating and over 4000 reviews. Find out why our customers rave about our service!