How much can I borrow as a first time home buyer?
Borrowing used to be based on a simple formula: lenders would take your income, then multiply it by up to five and a half times (or up to three and a half times for a joint application) to determine how much you could borrow.
This is no longer the case, and lenders have become much more cautious since the financial crisis of 2007-08. They are now obliged to assess your ability to repay the mortgage under rules brought in by the Financial Conduct Authority in 2014. This means they don't just look at what you earn, but also your monthly expenses and how that might change in the future. Thus, there are three key areas that lenders look at when assessing what they will lend to you: your income, your outgoings and possible future developments.
How much can I afford?
One of the first things our advisors look at when we meet you is the money you earn and how you spend it. We do this to build up a picture of what you can afford, so we can get you a decision in principle. Later in the guide we will take you through all the costs of buying a house step-by-step.
Income: Lenders will look at your basic salary plus any overtime or bonuses. They will also consider benefits, pension income, investments, child maintenance or income from an ex-partner.
This includes:
Salary
Investments
Savings
Other income
Outgoings: You'll need to tell us about what you spend on basics like bills – utilities, council tax, broadband, phone, insurance; credit card payments; loan repayments; other committed expenditure such as gym membership and childcare; living expenses – groceries, eating out, clothing, entertainment, holidays. It is important to give an accurate picture of your outgoings as you need to submit 3 months of bank statements when you apply for a mortgage and lenders will query any large outgoings not already disclosed.
This includes:
Financial Commitments:
Loans
Credit cards
Student loans
Store cards
Hire purchase
Pensions
General Living Costs:
Food
Clothing
Personal goods
Mobile phone
Entertainment/recreation
Household goods
Alcohol/Tobacco
Holidays
Utility & Bills
Gas
Electric
Water
Telephone
Broadband
Digital TV
TV license
Council tax
Other
Transportation:
Fares
Fuel
Road tax
Insurance
Servicing
Parking
Other
Credit history:
Future changes: Lenders will "stress-test" whether you could still afford to pay your mortgage if interest rates increased or you or your partner were no longer working (if you fell ill, took a career break or had a baby, for instance).
Advisor insight – what you need versus what you can get
Different lenders use different criteria to assess what they think you can afford and what they'd be willing to lend you. This means you might be able to borrow considerably more from certain lenders. However, it is worth pausing to think whether more is a good idea. You may be able to buy a larger property, but would you still be able to pay your mortgage if things changed? Sometimes peace of mind is worth more than a slightly bigger house!
Guarantors – how they can help you borrow more
If you're struggling to take out a mortgage on your own but you don't want to get a traditional joint mortgage, there is another option – a guarantor mortgage.
This means that you take out a mortgage – everything is in your name and you own your property – but you have someone else there as a backup. That person will underwrite your home loan. In practical terms, it means that if you can't pay back your mortgage, they have to pick up the tab. Guarantors tend to be direct family members (parents, grandparents or siblings), but they can be anyone who is prepared to commit to paying your mortgage should you be unable to. The lender will look at their financial situation as part of your application, allowing you to borrow more than you could on your own.
To get a rough idea of how much you can borrow you can have a look at our How Much Can I Borrow? calculator, but to get an accurate figure it is best to speak to a mortgage advisor.
Mortgage Tools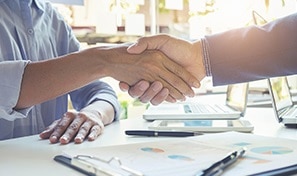 Top Rated Mortgage Advice
When you are ready to take the next step on your home buying journey, we have friendly advisors ready to take you through the whole process, step by step. Find your nearest branch here, or call us on 0345 603 1525.
First Mortgage is the UK's most trusted mortgage advisor, with a 5 star TrustPilot rating and over 4000 reviews. Find out why our customers rave about our service!