Mortgage Schemes
It can be difficult to take that first step onto the property ladder. You may not have the option of buying a property with family or friends, or you may choose not to involve them in your financial decisions. There are several Government schemes available that can help boost your home-buying potential, making your first home purchase much more achievable. This information is regularly updated, however, to find the most up-to-date information please contact one of our mortgage advisors .
Government Help to Buy Scheme
The help-to-buy scheme is no longer running as of October 2022. If you applied by 6 pm on 31st October, your application will still be processed. There are still great schemes available across the UK. Find out more below.
UK Wide Shared Ownership Scheme
How Does Shared Ownership Work:
Shared ownership is a scheme that lets you part-own, part-rent your house. It allows you to buy a share in a house that you can then make your home, as although it is shared ownership, you live in and look after your own property.
Shared ownership schemes usually require you to buy between 25% and 75% (although as low as 10% in some cases) of the property's full market value, then pay a reduced rent (occupancy charge in Scotland).
These schemes are for those who don't earn enough to buy their own place but still want to get on the property ladder and make where they live their own.
Shared ownership in NI:
Find out more below.
Northern Ireland's Co-Ownership Scheme
How Does NI Co-Ownership Work:
Co-ownership is a large housing association in Northern Ireland. There are 3 offers available, "Co-Own", "Co-Own for Over 55s", & "Rent to Own".
You must purchase at least 50% of your property and it must be where you live, rather than an investment property.
Who Is Eligible: Buyers over 18 who could not afford to buy without the co-ownership initiative.
Maximum Property Value: £190,000
More info on NI Co-Ownership
Wales Help to Buy Scheme
How Does Help to Buy Wales Work?
Phase 3 of Help to Buy in Wales will be available until March 2023. Shared equity loans allow you to buy new build properties.
You need to contribute at least 5% towards the cost. The Welsh Government give you a shared equity loan of up to 20% and the rest is from a mortgage lender. The house builder you choose must also be registered with the scheme, be sure to check before applying.
Who Is Eligible: First-time buyers and movers wishing to purchase new-build homes
Maximum Property Value: £250,000
More info on HTB Wales
Wales Homebuy
How Does Homebuy Work:
Typically, buyers will need to 70% of the purchase price of a home through savings or a mortgage. The Welsh government will then provide a 30% equity loan.
Buyers must not be receiving Housing Benefits, or have received it during the 12 months, before applying to the scheme.
Restrictions:
This scheme is available for those that are not adequately housed or cannot afford to occupy their current location.
Right to Buy
If you have rented from your local council for more than three years and live in England, Wales, or Northern Ireland, you could be eligible to buy your home at a discounted price. How much of a discount depends on where you live and the sort of property you'd like to buy. If the place you live in used to be a council property but is now owned by another landlord or housing association, you may still be able to buy it under 'preserved' schemes: they usually mean that your rights as a council tenant continue after someone else has bought the property. The Right to Buy scheme has now been extended to include housing association tenants in England. In Scotland Right to Buy no longer operates but there are other schemes that could help you buy your home.
Help To Build UK
England, Wales, and Scotland are all offering help to build schemes as of October 2022.
What is Help to Build England used for?:
With this scheme, you can apply for between 5% and 20% of the estimated land and building costs for your home (up to 40% of estimated land and building costs in London).
You can apply to purchase land to build a home on
Those looking to convert a commercial space to a residential space
For demolishing a property and building a new home in that space
This loan can be used to build an airspace development
Help To Build England Restrictions:
You must not own any other properties and live in the newly built home.
What is Self-Build Wales used for?:
In Wales, you can apply for this loan for 75% of the cost of a plot of land to build on and 100% of the cost of building your new home. Find plots in Wales that already have planning permission here.
What is Self-Build Scotland:
The closing date to apply has now passed. This scheme offered loans up to £175,000 to help with the construction of self-build projects.
Learn more about Help to Build across the UK.
Advisor insight – check for exclusive schemes
It's not just government schemes that will help you buy your property. Developers, lenders, and home builders often offer schemes to help people buy their homes. It's always worth asking if there are any deals available – in fact, as a First Mortgage advisor, this is something I'd look for as a matter of course if I thought it might help you get the property you want.
Mortgage Tools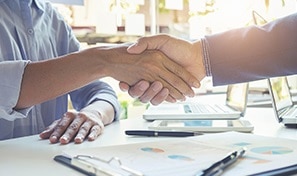 Top Rated Mortgage Advice
When you are ready to take the next step on your home buying journey, we have friendly advisors ready to take you through the whole process, step by step. Find your nearest branch here, or call us on 0345 603 1525.
First Mortgage is the UK's most trusted mortgage advisor, with a 5 star TrustPilot rating and over 4000 reviews. Find out why our customers rave about our service!